Travel Instructions
All Joseph Baldwin Academy students traveling by airplane who require transportation from arrival and departure points to the Truman campus must meet the following requirements:  Session I students must arrive on Saturday, June 11, and depart on Saturday, July 2; and Session II students must arrive on Saturday, July 9, and depart on Saturday, July 30.
If you are traveling by plane:

Due to average lower air fare and decreased interest in the St. Louis Airport, we will only provide transportation from the Kansas City Airport (MCI) on the Saturday beginning and ending each session. A $75.00 round-trip ($35.00 one-way) shuttle fee will be charged for transportation to and from the airport at Kansas City. Because of the long commute between the airport and Kirksville, all flights must arrive and depart between 10:00 a.m. and 2:00 p.m.  Transportation will not be provided for flights arriving or departing at other times.  If you are arriving on an international flight that makes arriving during this window impossible, please contact the JBA office at tiacademies@truman.edu.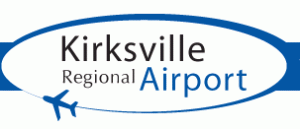 It is possible to travel to Truman via the Kirksville airport. Cape Air provides three flights each day in and out of Kirksville. Flights connect from St. Louis and the St. Louis to Kirksville leg is flown on an eight-seater propeller craft. The service is reliable and safe and is regularly full. Students will need to change terminals in St. Louis to meet their Cape Air flight (generally speaking), and a van shuttle service is available to help them avoid having to go through security a second time if they are on certain airlines (though not all). While we are great fans of the Cape Air service, and encourage patrons to consider it, parents will want to discuss logistics with their children if they are inexperienced fliers. Cape Air charges $52 each way, over and above the cost of your flight to St. Louis, to reach Kirksville. Both Expedia and Travelocity will enable you to include the Kirksville (IRK) leg in your itinerary planning. We continue to offer service for the KC Airport (MCI) because the overall cost of the flight and shuttle tends to be a good deal cheaper.  In order to meet the program schedule, JBA students flying to Kirksville must arrive on the 11:15 AM Cape Air Flight (10:15 St. Louis Departure) and depart on the 7:00 AM flight.  
Please send the following to us by April 13, 2022:
Send a wallet-sized photograph of you.
Send your $75.00 round-trip shuttle fee.
Your completed travel card.
Staff members of JBA will meet you at the security checkpoint of your arrival gate.  Please do not leave this point until a Joseph Baldwin Academy representative meets you.  The JBA staff member will be wearing a Joseph Baldwin Academy Staff t-shirt and holding Joseph Baldwin Academy signs.  It is important to send your picture because this will help us identify you at the airport.  Also, remember to wear the Joseph Baldwin Academy sticker sent to you with the registration materials.   Students will be responsible for their meals on arrival day.
Call the site office immediately if there is any last-minute change in the flight schedule. Departing students are checked in and escorted to the security checkpoint by staff members. Because of new airport regulations, the staff member will not be able to accompany the students to gates. Students and staff will be given instructions on what to do if a flight is canceled or significantly delayed.
Note: Students under twelve may be considered "unaccompanied minors" by the airline, and you may be required to pay an extra fee (contact your airline for details). The airlines will require the name of the JBA staff person who will meet such students upon arrival. We cannot provide this in advance; instead you must contact the JBA office the day before the flight to get the staff member's name.
If you are arriving by car:
When you enter Kirksville, you will be traveling either north or south on Highway 63 (designated as Baltimore Street in Kirksville).  Turn west on Patterson Street and proceed to the University (see the map below.  Click for a Printable PDF).  The map will help you locate Ryle Hall which is #30 on the map.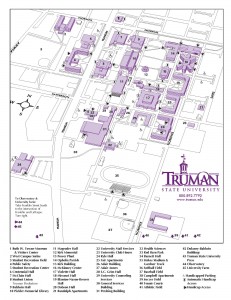 Accommodations in Kirksville
For information on hotels in and around Kirksville, please visit the Visitor's Guide or view a map of Kirksville and the Truman campus.
International Travel
Students traveling internationally will need to work with JBA and the Center for International Students to obtain the proper student visa.  While JBA is not a credit-bearing program, students from "Visa Waiver" countries are still advised to obtain a visa because the three-week nature of the program strains the definition of incidental study accommodated by the Visa Waiver program.  Students are urged to work with Truman at the earliest possible date after acceptance to process the required Visa paperwork.
There are only a small number of direct international flights into Missouri.  Most students will be taking connecting flights from larger cities such as Chicago, Detroit, New York, or San Francisco.  Please contact the JBA Office with your student's full flight itinerary.  If your child is flying alone, please make sure they have the necessary documentation authorizing them to fly as an unaccompanied minor, including a letter granting your permission as a parent and an indication of their destination and length of stay in the United States.