Joseph Baldwin Academy
Travel Instructions
If you are traveling by plane: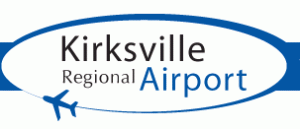 To arrive at Truman State University in Kirksville via a flight, you will need to book your flight to Kirksville Airport via Contour Airlines.
They provide flights each day in and out of Kirksville from Chicago. Students coming from any other city will need to change terminals in Chicago to meet their Contour Airlines flight.
A van shuttle service is typically available to help avoid having to go through security a second time if they are on certain airlines (though not all). Parents will want to discuss logistics with their children if they are inexperienced fliers.
JBA staff members will meet you at the security checkpoint of your arrival gate at the Kirksville Airport. Please do not leave this point until a JBA representative meets you. The JBA staff member will be wearing a Joseph Baldwin Academy staff t-shirt and holding Joseph Baldwin Academy signs. It is important to send a picture because this will help us identify you at the airport. Students will be responsible for their meals on arrival day.
Call the site office immediately if there is any last-minute change in the flight schedule. Departing students are checked in and escorted to the security checkpoint by staff members. Because of airport regulations, the staff member will not be able to accompany the students to the gates. Students and staff will be given instructions on what to do if a flight is canceled or significantly delayed.
Note: Students under twelve may be considered "unaccompanied minors" by the airline, and you may be required to pay an extra fee (contact your airline for details). The airlines will require the name of the JBA staff person who will meet such students upon arrival. We cannot provide this in advance; instead you must contact the JBA office the day before the flight to get the staff member's name.
If you are arriving by car:
When you enter Kirksville, you will be traveling either north or south on Highway 63 (designated as Baltimore Street in Kirksville).  Turn west on Patterson Street and proceed to the Truman State University campus. Ryle Hall is located on the southwest corner of Patterson and Florence Streets. The Campus Map will help you locate Ryle Hall which is #25 on the map.
View Campus Map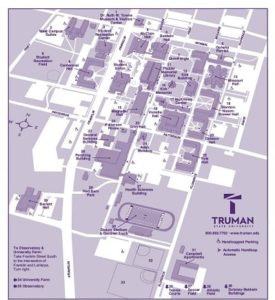 Accommodations in Kirksville
For information on hotels, restaurants, and things to do in Kirksville, visit the Kirksville Visitor's Guide  (view map of Kirksville).
International Travel
Students traveling internationally will need to work with JBA and the Center for International Students to obtain the proper student visa. While JBA is not a credit-bearing program, students from "Visa Waiver" countries are still advised to obtain a visa because the three-week nature of the program strains the definition of incidental study accommodated by the Visa Waiver program.  Students are urged to work with Truman at the earliest possible date after acceptance to process the required Visa paperwork.
There are only a small number of direct international flights into Missouri.  Most students will be taking connecting flights from larger cities such as Chicago, Detroit, New York, or San Francisco.  Please contact the JBA Office with your student's full flight itinerary.  If your child is flying alone, please make sure they have the necessary documentation authorizing them to fly as an unaccompanied minor, including a letter granting your permission as a parent and an indication of their destination and length of stay in the United States.