Summer Sessions at Truman State University
JBA: A Pre-College Summer Academy
The Joseph Baldwin Academy is a three-week residential program on the Truman State University campus that offers an academically challenging curriculum for students in grades 7-9.
This summer academy introduces highly talented middle and junior high students to college life in general.
live in a residence hall and adapt to living with a roommate
select from classes offered in all areas of the liberal arts, including the humanities, fine arts, natural sciences, and social sciences
work with exceptional teachers, engage in the Truman community, and make new friends from around the country

Session I

June 8 – 28, 2024

Session II

July 6-26, 2024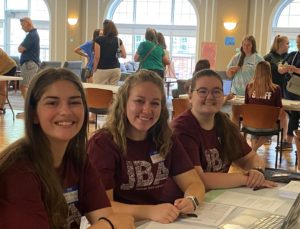 JBA students get a head start on their future university careers by living like college freshmen for three weeks. During their time on campus, students:
gain an increased appreciation for the pleasures of education and intellectual engagement
discover a place where students are accepted for who they are
learn what a college experience looks like first hand
grow both academically and socially as they interact with other high-ability students
 Student eligibility to qualify for nomination
Students who will complete the 7th, 8th, or 9th grade at the conclusion of the current academic year
High achievers as indicated by GPA, IQ, enrollment in gifted courses, high standardized test scores, or equivalent measurement
 Who can nominate a student?
guidance counselors
school principals
gifted education teachers
parents of home-school students
 Important Deadlines
October 25, 2023: Nominations by educators due
November 2023: Applications open
December 3, 2023: Priority consideration deadline
January 7, 2024: Final deadline to accept applications
Final week of February/First week of March 2024: Notification of acceptance to Academy
Have questions?
We're here to help.
Joseph Baldwin Academy
Truman State University
100 E. Normal Ave.
Kirksville, Missouri 53501
Email: jba@truman.edu
Phone: 660-785-5384