Tuition and Scholarships
Tuition
Each session . . . . . . . . .  $1,975*
Included in this fee: course tuition, an air conditioned room, meals, JBA t-shirt and various other activities/materials.
*Please note that some courses have additional fees for supplies and/or field trip fees (see "Other Fees" chart below).  Additionally, some courses require books or course packs/supplies which are non-refundable.
In addition, students will want to bring spending money, please see information below under "any other expenses" for examples and suggested amounts.
*Other Fees (non-refundable) 
Additional supplies or field trips:
| | |
| --- | --- |
| Computers in Art & Design | $ 65.00 |
| In Focus: The Art and Practice of Filmmaking | $ 65.00 |
| From Page to Stage (personal make up kit) | TBA |
| Why We Fought:  American Wars from World War I to Iraq | $165.00 (two field trips) |
| An "Animated" Course | $ 65.00 |
| Lab Fees (Intro to Chemistry) | Items broken are the  responsibility of the student for the replacement cost |
*Cost NOT included in Tuition
Books, course packs and supplies
Books average approximately $60.00 per course and are sold on check-in day. If your student will need a book, it is designated on the course description page.
Course packs prepared by the instructor or supplies needed for class and labs.  If these items are needed, the professor will hand them out the first day of the course and fees will be collected at that time.  They range from $10-$30.
Other items to bring with a student.  If items are needed, you will be notified by your instructor about 2-3 weeks prior to arrival of these additional supplies that may need to be purchased.
Any other expenses:
Anything that is not covered by the tuition, room and meals are the responsibility of the parent or guardian signing the application such as:
laundry supplies
snacks
housing group activities (such as swimming)
staff appreciation day activities
While spending varies from student to student each year, most students spend an average of $125-$175 per session.  Please note that students are encouraged to discuss budgeting of money with their parents before coming to the Academy.
For forgotten items, items that run out, snacks, etc. The Academy provides a "Hall Store" available in the residence hall where students may purchase a wide variety of items: soda, bottled water, juice, candy, pop corn, snack cakes, granola bars, chips, mini pizzas and Joseph Baldwin Academy memorabilia such as Memory Books, group posters, t-shirts, lanyards, sunglasses, sports watches and water bottles. The sale of these items help fund the scholarships for students in the future.
In addition, students may also sign up to go to Wal-Mart with staff members (at designated, supervised times) while at the Academy so that they may purchase any miscellaneous items they may need or might have forgotten to bring that is not available on campus.
Medical Services:
These services are not included in the tuition and are the responsibility of the parent or guardian signing the Medical Form. Students are required to pay any co-pay for medical services or prescriptions at the time of service.
Shuttle Service
NOTE: Due to average lower air fare and decreased interest in the St. Louis Airport, we will only provide transportation from the Kansas City Airport (MCI) on the Saturday beginning and ending each session. A $75.00 round-trip ($35.00 one-way) shuttle fee will be charged for transportation to and from the airport at Kansas City.
Because of the long commute between the airport and Kirksville, all flights must arrive and depart between 10:00 a.m. and 2:00 p.m. Transportation will not be provided for flights arriving or departing at other times.
Student Shuttle Service Fees (Kansas City only)
One way . . . . . . . . . . . . . . . . . . . .. . . . . . . . $35.00
Round trip  . . . . . . . . . . . . . . . . . . . . . . . . . $75.00
From Kirksville  Airport . . . . . . . . .. . . . .   No cost
Students who live near the Kansas City area are also welcome to use the shuttle service at the same cost listed above.  Someone from JBA will notify you of a time to meet us at the airport to get on the shuttle the week prior to your arrival. Just indicate "shuttle only" on your travel information.
There are limited flights between St. Louis and Kirksville Regional Airport via Cape Air.  If you elect to come directly to Kirksville by plane, be advised that a connection must be made in St. Louis.  While we are great fans of the Cape Air service, and patrons may wish to consider it, parents will want to discuss logistics with their children if they are inexperienced fliers.
Cape Air charges approximately $52 each way, over and above the cost of your flight to St. Louis, to reach Kirksville. In order to meet the program schedule, JBA students must arrive on the 11:15 AM Cape Air Flight (10:15 St. Louis Departure) on arrival day and depart on the 7:00 AM flight on departure day back to St. Louis.  Unfortunately, there are only eight seats on this plane.
Scholarships
Some students selected for the JBA will be awarded partial scholarships ranging from $250 to $450.  The number of scholarships is limited and will be awarded on the basis of financial need.  Scholarships are funded through the sales of the JBA digital memory book, group poster, t-shirts and other items sold at the JBA Hall Store during each session of the Academy.
Missouri applicants for financial aid will also be considered for The Joseph Baldwin Academy Opportunity Scholarship, made possible by a Missouri donor who each year seeks to help an extraordinary student(s) with great potential for future growth and leadership attend the Academy. Two $500 scholarships are awarded in each session.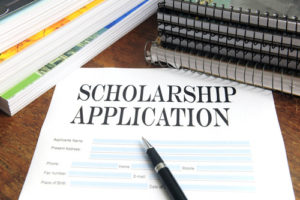 The Dan Clark Scholarship, named after the JBA director who retired after 15 summers of dedicated service, is a single $500 award open to aid applicants who demonstrate both financial need and an expressed interest in their application.  Students will also need to complete an essay on the online application addressing the principles of justice, equality, and opportunity for humanity.  The essay will need to be a minimum of 200 words and maximum of 400 words.
Priority is given to applicants who have not previously received financial aid from JBA.  Awards are first made to all eligible first-time attendees.  If funds remain available, these funds are then distributed to returning students in order of greatest need.  Students in need seeking to attend both sessions will receive aid with the goal of facilitating attendance of at least one session.
Only students requesting financial aid should complete the request for financial aid section within the application materials. Students needing financial assistance are also encouraged to seek aid from service and business organizations in their local community such as Rotary, Chamber of Commerce, PTO/PTA, etc.
Scholarships are funded through the sale of the Joseph Baldwin Academy digital memory book, group poster, t-shirts and the hall store items sold at the residence hall during each session of the Academy.