Arrival & Departure
Arrival
Students attending Session I will check in at the residence hall on Saturday, June 11, at any time after 10:00 a.m. but before 4:00 pm.  Students attending Session II will check in at the residence hall on Saturday, July 9, at any time after 10:00 a.m. but before 4:00 pm. 
Check-in at the Academy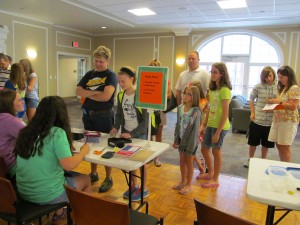 We would like to also provide you with some additional information regarding move-in day so that you will know what to expect.  Please come to Ryle Hall Lounge to check in but leave your luggage in your car until you have completed the registration process (approximately 15-20 minutes).
When you first enter the lounge of Ryle Hall to register, it may look a little chaotic, however if you have any questions, ask anyone wearing a Joseph Baldwin Academy Staff t-shirt for help. We will have several tables set up to facilitate your check-in:
Room Assignment Table – Here you will check in and receive your room assignment. You will also receive your room key, student address, telephone number, and mailbox combination.  A $40.00 room key deposit will be required upon check-in to cover lost keys.  When you return your key at the conclusion of the Academy, you may receive a refund of this deposit or apply it towards the full purchase of a JBA Poster and Memory Book, highlighting all classes and activities at the Academy. All proceeds will go towards the Joseph Baldwin Academy Scholarship fund.
Bookstore – The Truman Bookstore will be open the day of check-in to sell textbooks for your classes and other Truman merchandise. Please make checks payable to Truman Bookstore.  The course description lists the estimated cost of your textbook (tax is not included in that figure).
Activities Table – Here you can choose what activities you would like to do later that day after you have moved in. You may also choose to indicate any special food preferences, music and movie favorites.  You will also be asked to fill out an activity survey.
Medical Table – You and your parents will turn in all medication (prescription and over the counter) with the Health & Wellness Director and fill out a form to let us know how to dispense the medicine.  Exceptions will be made for students who carry inhalers on a case by case basis.  

Students may not keep any medication in their rooms!!

Memento Table – Yes, it may sound strange to be talking about preserving memories of JBA before the session even begins, but we want your parents to be aware of the JBA Photo, Digital Photo Drive and Truman State University t-shirts. All proceeds go to the JBA Scholarship Fund (and we raised over $18,000 for the fund last year!). You can also pick up a news release to send to your local newspaper.
The Bank – You may deposit any spending money in "The Bank" with the Residence Life Director. To assist our staff, we ask that you bring CASH for your deposit. This will allow the funds to be made immediately available to you when the Bank is open. If you deposit checks, you will have to go to the Cashier's Office in McClain Hall throughout the session in order to receive money. Your parents may wish to leave a check at the bank to pay for any visit to the doctor's office or medication if you happen to get ill during the session.
Last summer most students chose to spend around $120-150 dollars for miscellaneous items. These included JBA souvenir items, laundry facilities, snacks, movies, housing group activities, swimming, trips to Wal-Mart, food at the all-nighter, and items for the Halloween Party.
Once these things have been taken care of, you are now ready to get your luggage and move into your room. Preceptors will be available to assist you with move in and help you carry your belongings to your room. If you haven't eaten lunch yet, we encourage you and your parents/guardians to eat in the Ryle Cafeteria.   The Ryle Cafeteria will be open from 11:30 a.m. – 12:45 p.m. Students and their families can purchase lunch for a minimal fee. JBA provides lunch for students, however parents/guardians and other visitors will need to pay for their meals on check-in day.
Departure
Students attending Session I must check out of the residence hall on Saturday, July 2 by 11:00 a.m. Students attending Session II must check out of the residence hall on Saturday, July 30 by 11:00 a.m.  However, parents may choose to check their children out of the Academy immediately following the Closing Reception on the last day of classes.
Students who are going home after the Closing Reception on the last day of classes are asked to check out with the Residence Life Director between 7:00 pm and 8:00 pm.  Staff will begin check-out for all other students on Saturday between 8:00 am and 10:00 am.  All students must be picked up by this time.
Check-out at the Academy
On the last Saturday of the Academy (July 2-Session I or July 30-Session II), Staff will begin check-out for all students at 8:00 am.  All students must be picked up no later than 10:00 am.  If you arrive early, please be patient while staff prepares the details for check-out.  All students will either be in the main lounge or the cafeteria eating breakfast.
The cafeteria will have breakfast available for students and their parent/guardian.  Breakfast hours are 8:15 am – 9:30 am.  Breakfast that morning is included in the JBA tuition for students; however, the parent/guardian will be responsible for their own breakfast.
Packing Up!- After finding your student, you may go with him/her up to their room and begin bringing your student's belongings directly outside to your vehicle.  Remember to check the closet, bathroom, and drawers.  We do not recommend bringing belongings to the main lounge, as it will already be crowded with other students and families.  If you notice that the room is not properly clean, students can get cleaning supplies from the floor lounge.  But it's their room; they should clean it, not you!  Once the room is cleaned out, your role is essentially done.  The student will return to the main lounge with the room key.
Items & Room Table – Students will then go back to their room with a Preceptor to double-check that the room is empty and clean and then return to the Main Lounge.  Students will return any items that they may have borrowed from the Hall Desk while at the Academy such as extension cords, iron, etc.
Medical Table – The students will pick up any medication they have left.  Parent will have the chance to talk with the Health & Wellness Director if they wish.
The "Bank" – The students will withdraw any money they have remaining in the Bank, return their room key and be refunded their room deposit key if they choose not to apply this fee towards their JBA Memory items.  The students will also have the opportunity to make any last purchases such as t-shirts, snacks, etc.