JBA Junior
Dates: July 11 – 15, 2022
Check with your school district about bus transportation options.
Cost
Standard Rate:  $100 per student
Free/Reduced Lunch Rate:  $20 per student
Note: You'll pay one rate or the other, not both.
Make a Payment
If your child is registered to attend JBA Jr., you should have received a welcome email from our office. Please contact us if you did not receive it.
Below are links to forms and important information regarding your student attending JBA Jr. Currently all information is from our 2021 session.  As soon as possible, we will update all information for our 2022 session.
Authorization to Take Off Campus Form
Our Mission
We want students at JBA Junior to learn, explore, and have fun!  We also want them to believe that college is a real and attainable future goal.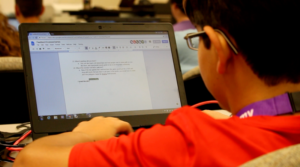 JBA Junior gives area youth enhanced access to Truman State University. The program aims to give area students a chance to broaden their horizons by spending time learning and exploring at Truman, guided by our faculty and staff. Our goal is to spark students' interests through engaging and diverse classes and activities. Our hope is that students attending JBA Junior will walk away encouraged and excited to learn and grow beyond the school day.
About the Academy
JBA Junior is the "younger sibling" to the highly popular Joseph Baldwin Academy. For over 30 years, Truman State University has hosted junior high students during the summer months. Now we begin a new chapter, welcoming upper elementary students to participate in JBA Junior: a one-week day program filled with engaging academic opportunities for students from the Northeast Missouri region. Among the engaging activities we have planned are:
Planetarium and Herpetology Lab tours
Activities in University classrooms and labs
Lessons and activities at the University Farm
Lunch and recreation provided every day
Scavenger hunt activities to get to know Truman's campus
More classes/activities to be announced!
About Truman
Founded in 1867, Truman State University is nationally recognized for the quality of educational opportunities that it offers and for its leadership in the assessment of student learning and continuous improvement. The institution is committed to a strong focus on high-impact learning experiences, and more than one-third of Truman's undergraduates go on to pursue graduate education. Truman is consistently ranked among the nation's best colleges.
Truman offers opportunities in the summers for upper elementary, junior high, and high school students to learn and grow.