Dean's Challenge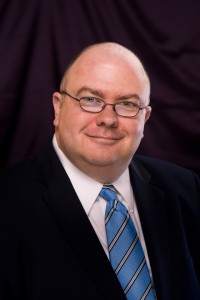 From The Eighth JBA Dean, Dr. Kevin Minch
To JBA Alums, Parents, Faculty – past and present:
It is a great privilege for me to serve as the eighth Dean of the Joseph Baldwin Academy.  While my time at Truman, and with the Baldwin Academy, has been shorter than some of my colleagues, my interaction with them has given me a rich appreciation for the history and impact this program has had on so many students' lives.  I am lucky to hear back regularly from students who left my first JBA classes and are now moving on to successful high school and college experiences.  I look forward to hearing from them years beyond their graduation.  The common theme of these interactions is always an appreciation for how much JBA did for them academically and socially.  For my colleagues in the academy faculty, this feedback is the same.
JBA students tell us so much about the richness of their experiences here, and how those experiences changed their lives.  For many professors who were often very much like the average JBA student when in school, their experiences are truly familiar.  When I was in middle school, JBA was in its infancy, and my parents did not know it existed.  I was fortunate enough to have attended other summer institutes as I went through high school; but, looking back, I know those experiences just were not the same.  I was the stereotypical quiet, intellectual kid in school.  The challenges that many of our students face—fitting-in in a world of cliques, finding the comfort to express enthusiasm for learning, and locating intellectual stimulation in a curriculum that they may already have mastery of—remind me very much of my childhood experiences.  Yet JBA students leave their experience here affirming the notion that it is "OK to be smart," with renewed excitement for learning and increased confidence for interacting socially with their peers.  Their testimonials, sprinkled throughout this website, say it all.
It is both because I enjoy watching the success of our students and because I wish these opportunities had been available to me when I was a kid, that I have decided that I want to make this life-changing adventure available to some bright young person. I have made arrangements with the Advancement Office at Truman State University for an automatic payroll deduction to be sent to the Joseph Baldwin Academy Opportunities Fund.  Over the course of this year, I will be challenging current and former faculty of JBA to do the same.  In symbolic recognition of the important role parents make in decisions about their children's future, and the appreciation parents have shown toward our program over the years, my own parents have joined us in making contributions to the fund.
I am asking you—alumni, parents, current and former faculty—to join in the goal of creating opportunities for many more deserving students to attend JBA. Join me in making a contribution that will yield manifold dividends over decades to come, that will transform the futures of so many bright young people. Those of us who work with JBA, as well as many former students and their parents throughout the country, have been touched by the Academy, and it is our privilege to "pay it forward." Use the instructions below to make a one-time donation, or call (800) 452-6678 or (660) 785-4133 to talk about an automatic gift-plan or bequest.
Sincerely,
Kevin Minch
Professor of Communication
Associate Provost
JBA Dean 2008-2016
Three Easy Ways to Make Your Gift
1) You can call toll-free at (800) 452-6678 or call (660) 785-4133 to make a contribution to the Joseph Baldwin Academy Opportunities Fund over the phone using your credit card.*
2) You can make a contribution by mailing a check made payable to Joseph Baldwin Academy Opportunities Fund. You can also mail us your credit card info.*
Truman State University
Office of Advancement
McClain Hall 100
100 E. Normal St.
Kirksville, MO
63501-4221
3) You can also use our secure website:  https://secure.truman.edu/alumni-s/contribution_new.asp
(under "Scholarship Fund," please specify Joseph Baldwin Academy Opportunities
*When making a gift by phone or mail using your credit card, please include the following information:
Type of credit card (we accept MasterCard, or Discover)
Amount of your gift
Name as it appears on credit card
Credit card number
Expiration date
Your daytime telephone number
Gift designation:  Joseph Baldwin Academy Opportunities